Intel Edison Block - PWM
Intel Edison Block ต่างๆสามารถนำมาต่อซ้อนกันได้, PWM Block หรือ Servo Block สมารถควบคุม Servo Motor ได้ถึง 8ตัว ผ่านการสื่อสารแบบ I2C กับตัวขับ PWM และจะต้องจ่ายไฟมาจากภายนอกเพื่อเลี้ยงมอเตอร์

Description:

The Intel® Edison is an ultra small computing platform that will change the way you look at embedded electronics. Each Edison is packed with a huge amount of tech goodies into a tiny package while still providing the same robust strength of your go-to single board computer. Powered by the Intel® Atom™ SoC dual-core CPU and including an integrated WiFi, Bluetooth LE, and a 70-pin connector to attach a veritable slew of shield-like "Blocks" which can be stacked on top of each other. It's no wonder how this little guy is lowering the barrier of entry on the world of electronics!

This Block adds eight channels of PWM control to the Edison's I2C bus. While the PWM output can be used for any generic PWM application, it is specifically intended to provide drive control for up to eight standard hobby-type servo motors. To that end, it has an independent input for supply voltage for the servos above the normal range of the Edison, and 8 connections that support the most common pinout of hobby servo motors. The PCA9685 equipped on this board has an independent clock that can be operated at 50Hz, for servo control; at that frequency, the 12-bit resolution of the device provides approximately 200 steps of resolution for a servo motor.
Board Overview
The "top" side of the board is the most interesting, so we'll look at that first.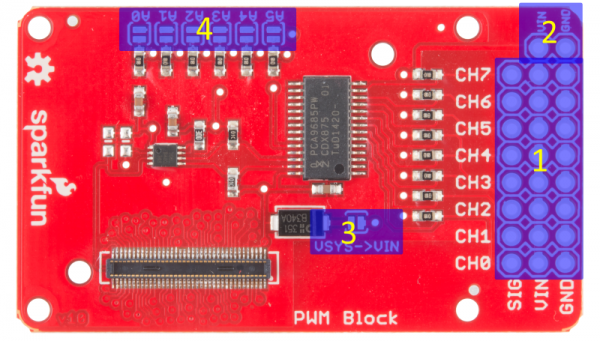 ยังไม่มีคนคอมเม้นเลย มาคอมเม้นเป็นคนแรกกันเถอะ